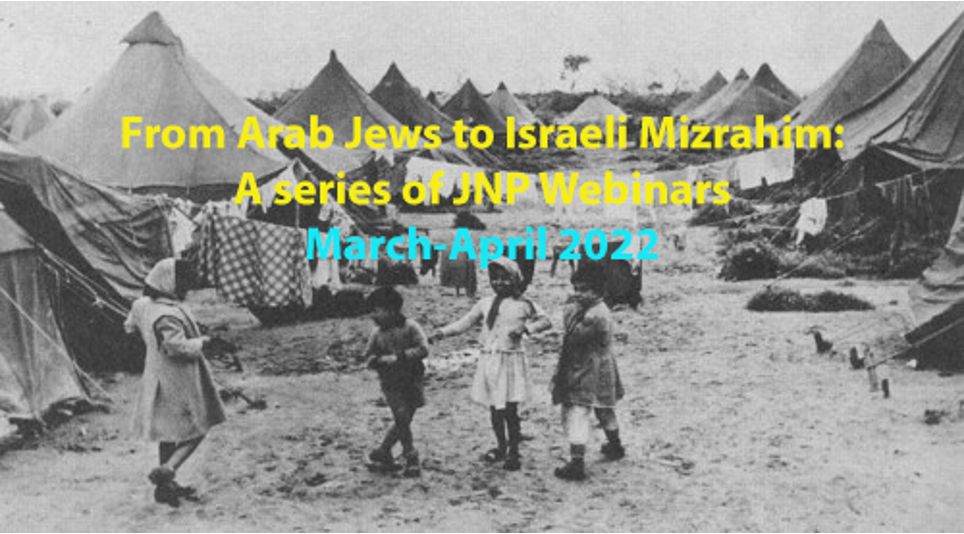 A series
Jewish Network for Palestine
webinars, chaired by Prof. Haim Bresheeth-Zabner, SOAS


We hope you will join us for this important series, the first of its kind in the UK. Separate registration is required for each of the meetings.

A short series of three leading academics speaking of aspects of Mizrahi life In the Middle East and Israel.
Mizrahim 1
5:00pm
March 13, 2022: Dr. Moshe Behar, University of Manchester
Nullified by Holocaust and Nakba: Arabised-Jews, 1937-1956

Disastrous domestic, regional and international developments have taken place between the 1937 publication of the British Royal Peel Commission (to partition Palestine into two states) and the 1956 Suez confrontation (involving Israel, Britain, France and Egypt). While informed observers know very much about dynamics underlying the Jewish Holocaust and the Palestinian
Nakba
– they commonly know little or nothing about sociopolitical experiences of nine Jewish minority communities in Arab states surrounding Palestine/Israel. The emergence and early crystallisation of the question of Arab and Mizrahi Jews have taken place during these years and will be briefly explained in this seminar.
Dr. Moshe Behar
is a Mizrahi scholar and activist.
He
holds a PhD in Comparative Politics from Columbia University and
is Senior Lecturer and Programme Director, Arabic & Middle Eastern Studies, the University of Manchester. His work includes the anthology
Modern Middle Eastern Jewish Thought
: Writings on Identity, Politics and Culture, 1893-1958 and can be further explored
here
.
Mizrahim 2
6:00pm
March 23, 2022: Dr. Hilla Dayan, Amsterdam University College

Remembering the 1950s
View on:
https://youtu.be/FFqkLnT001o
For decades, the traumatic dislocations of Jews from the Arab world, and racisms and discriminations they have suffered during the state-building epoch (1948-1958) were suppressed and delegitimised. However, in recent years, the epoch keeps returning, as seen from the perspective of Zionism
'
s
"
internal others." Expressing a cultural and democratic urge for recognition, Mizrahi subjects revisit
"
grandparents stories" and Arab-heritage expressed in popular Mizrahi music, poetry, documentary films, TV series etc. My lecture will analyse
"
the long 1950s", the lingering impact of state crimes that have no reprieve in the present. I reflect on why Mizrahi.and Palestinian memory of the first decade of the state tend to collapse under the weight of nationalist rivalry and populism, but also weigh the potential to escape it.
Dr. Hilla Dayan
is a political sociologist and her research covers Mizrahi memory production and the history of the Mizrahi struggle. She is also a co-founder of gate48, platform for critical Israelis in The Netherlands and Academia for Equality for the democratisation of Israeli society and academia.
Mizrahim 3
6:00pm
April 10, 2022: Prof. Zvi Ben-Dor Benite, New York University
Factories and Walls: Mizrahi and Palestinian Labor in Jerusalem 1950-2005


View on:
https://youtu.be/kfBZrYkSFzY
A short history of the "Theatre of Labour" in Jerusalem. What do the proletarianization of Middle Eastern Jews in the 1950s and 1960s, and of the Palestinians in the occupied territories near Jerusalem after 1967 teach us about Zionism and Capitalism?


Prof. Zvi Ben-Dor Benite
is an Associate Professor in the Department of History and the Department of Middle Eastern and Islamic Studies at New York University. He is the author of
The Dao of Muhammad: A Cultural History of Muslims in Late Imperial China
(2005)
, The Ten Lost Tribes: A World History (2009),
and editor, with Moshe Behar of
Modern Middle Eastern Jewish Thought
Writings on Identity, Politics, and Culture 1893-1958
(2013)